The Second Phase of TEL 1X330 MW Coal-Fired Power Station Project in Pakistan Thar Coalfield Block II Put Into Operation
Due to economic and political instability in Pakistan, many projects under the China-Pakistan Economic Corridor were affected. Despite this fact, China and Pakistan, the two long-term allies, were able to cooperate on a big coal-based project.
Recently, the second phase of TEL 1X330 MW Coal-fired Power Station project in Pakistan Thar Coalfield Block II successfully passed 168 trial operations, marking the full operation of the project. Prime Minister of Pakistan Mr. Shahbaz Sharif and Chinese Ambassador to Pakistan Mr. Nong Rong visited and inspected the project and inaugurated its commercial operation. Chinese Consuls in Karachi, Sindh Provincial Government Officials and Chairman of HUBCO also participated in the inspection.
Speaking at the ceremony, Shahbaz Sharif, Prime Minister of Pakistan, congratulated the project on its successful operation. He said that the China-Pakistan Economic Corridor is a gift from our neighboring brother, and the implementation of related projects cannot be achieved without its long-term support. The development of the Thar coalfield and the construction of the power station have saved Pakistan massive foreign exchange expenditures and facilitated the development of related local industries, which will tremendously contribute to Pakistan's economic and social progression.
Nong Rong, Chinese Ambassador to Pakistan, said in his speech that as a new achievement of the China-Pakistan Economic Corridor, the project would help Pakistan reduce the outflow pressure of foreign exchange reserves, improve the electricity supply capacity, promote employment, and turn the Thar Desert into an important source of wealth through the development and utilization of domestic energy resources. In this regard, the China-Pakistan Economic Corridor project is a win-win cooperation.
Bilawal Bhutto-Zardari, Foreign Minister of Pakistan, said in his speech that the Thar coal-fired power project has provided employment opportunities to local people, improved their life quality, and transformed the once barren desert.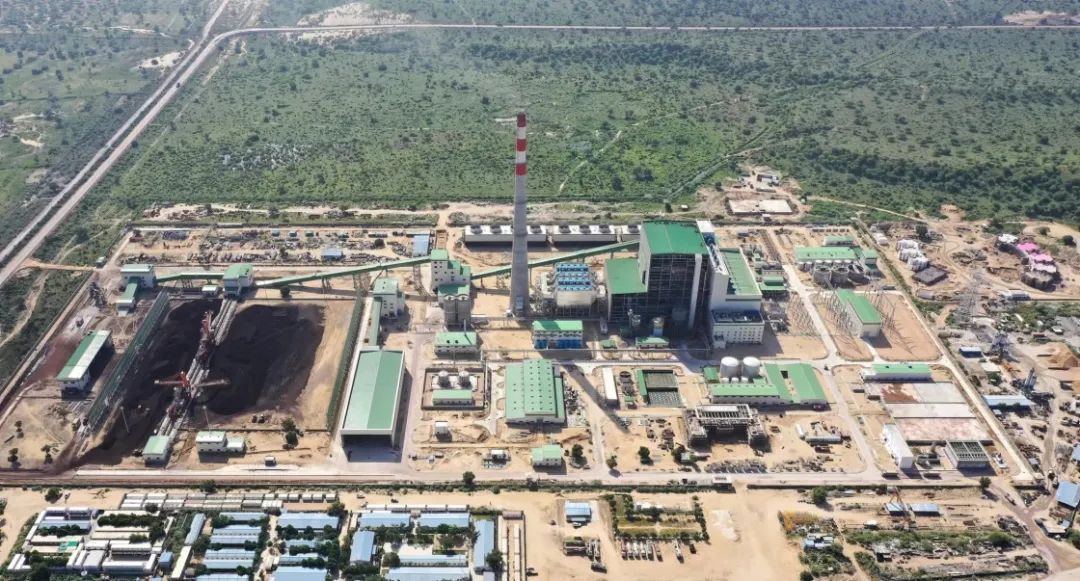 The project is a priority project of the China-Pakistan Economic Corridor under the "Belt and Road" Initiative. It is located in Islamkot Thar coalfield, 450 kilometres southeast of Karachi, Sindh Province, Pakistan. The mining area covers 9,000 square kilometres, with proven reserves of 175 billion tons, accounting for 98% of Pakistan's total coal reserves and ranking 7th in the world. In this phase, one 330 MW circulating fluidized bed coal-fired unit will be built.
Central Southern China Electric Power Design Institute Co. Ltd., a subsidiary of China Energy Engineering Corporation Limited, is a well-known and powerful engineering company. It mainly engages in power planning research, consulting, evaluation and engineering survey, design, service, supervision, project contracting, related proprietary technology product development, and other businesses. For the Pakistani market, it provides integrated engineering and construction solutions for government agencies, financial institutions, investors, developers, and project legal persons.
This project is another achievement of China-Pakistan energy cooperation made by Central Southern China Electric Power Design Institute Co. Ltd., following the first phase of the power station project in Pakistan Thar coalfield. "High standard, high quality, strict requirements" is the basic feature of the project. Central Southern China Electric Power Design Institute Co. Ltd., adhering to the enterprise spirit of "pursuing excellence with innovation", is committed to transforming design optimization into actual productivity, thus providing strong support for the construction of high-quality projects. Facing "urgent, difficult, dangerous and significant" on-site problems, Central Southern China Electric Power Design Institute Co. Ltd. takes the initiative to carefully select experienced design backbones, and provide practical technical services and guarantees for the project to ensure the smooth power generation.
Using lignite resources in Thar as its fuel, the project will help adjust Pakistan's coal production capacity structure, reduce power generation costs, optimize the investment environment, and promote infrastructure construction and economic development. This paradigm will provide valuable guidance for China-Pakistan Economic Corridor cooperation.
The success of this project is an evidence that China is willing to help Pakistan in hard times. The cooperation of the two states under the CPEC shall bring the two allies together, strengthening the bond and creating more opportunities for the development of the people.
Liu Huan, Yu Wei, Chen Lu
Disclaimer: This article is reproduced from other media. The purpose of reprinting is to convey more information. It does not mean that this website agrees with its views and is responsible for its authenticity, and does not bear any legal responsibility. All resources on this site are collected on the Internet. The purpose of sharing is for everyone's learning and reference only. If there is copyright or intellectual property infringement, please leave us a message.